FREQUENTLY ASKED QUESTIONS (FAQ)
Can I purchase directly from the artist?
---
Yes, you can visit us at our Gallery in historic, downtown Stuart or visit our 7,000 sq. ft. Artist Studio where Geoffrey creates his artwork. Click here for hours and directions.
---
How to book a Studio tour?
---
We love sharing the experience of Geoffrey's art! Please contact us at info@geoffreysmith.com or call +1-772-283-8336 to set up a tour.
---
Can a bronze sculptures go outside?
---
Yes, bronze sculpture with a natural style patina (non-pigmented) is a great choice for outdoor artwork. With time, they develop a naturally rich patina of their own. Cleaning and care are recommended to keep them looking spectacular. Click here to see many public art pieces that are located outdoors.
---
What is the best way to care for my sculpture?
---
How Often: We recommend that you wax your indoor bronze one to two times per year or when it appears dull. Outdoor bronze, we recommend two to four times a year depending on the climate. Application Process: ° Wipe the surface area with a clean non-abrasive cotton cloth. ° Place a thin coat of wax on the area. We recommend Renaissance Wax or Trewax Brand Carnauba Clear Paste Wax. ° After 15-20 minutes buff the sculpture with a clean cotton cloth.
---
Can I book Geoffrey Smith Galleries Studio location to host a private event or party?
---
Yes, we love to host events! Please contact us at info@geoffreysmith.com.
---
What is the lost wax casting process?
---
The lost wax casting, also called investment casting, is said to date back to the 3rd millennium BC. The process is slow and tedious with many steps but is arguably the best method to obtain high-quality sculptures. In fine art, the metal of the sculpture is thin and delicate and picks up every detail of the original work of art. First, the artist sculpts an original out of clay or wax. Next, a rubber mold is made around that original and a hard plaster "mother mold" is formed around the rubber mold to keep it from sagging or changing shape. The mold is opened like a clamshell, into which hot liquid wax is poured inside. At this point, the wax is now an exact copy of the original sculpture. (Think hollow chocolate bunny)! Each wax is "Chased" meaning a warm metal iron is used to melt out any seam lines and the wax is "dressed" or cleaned up to remove any bubbles or imperfections caused by the process so far. Next, small wax pipes called "Sprues" are added around the wax sculpture to act as a channel to allow the liquid metal to flow into the bottom of the hollow mold and air to flow out of the top. At this point, the sprued wax is dipped into a liquid slurry (similar to the texture of glue), then silica sand is sifted over to form a shell that is left to dry. This creates the actual ceramic shell. The dip, sand, and dry processes are repeated until the shell is the desired thickness; it has to be thick enough to hold the liquid bronze. Now, the mold is placed open side down inside a burnout oven to melt out the wax and change the shell into a glass-like empty vessel. This is why it is called "Lost wax". The mold is removed from the oven hot and placed on a rack open side up, molten hot bronze is poured into the shell. Once it is cool, the mold is broken away using a mallet and sandblasting so the bronze sculpture is revealed. Then the extra metal from the vents is removed by un-welding. The metal is "chased" to remove any unintentional marks. All the outside pieces of the sculpture are welded together over a metal skeleton; making the final statue an exact of the original clay model. The final step uses heat as a catalyst, the artist applies specific chemicals to the outside of the metal to create a desired color or pattern, called the patina.
---
How is a bronze sculpture made?
---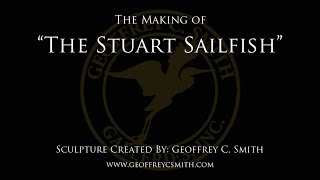 Geoffrey's sculptures often start with an experience in nature which lead into inspirations for his work. Once he finds inspiration the sculptures start coming to life from photography and sketches to the armature, clay, molds and finally the bronze. A great example of the process is the "Rising Above" Lotus commissioned by President Donald Trump to give Pope Francis during his trip to the Vatican. Click here to see the process.
---
What is Geoffrey Smith Galleries Shipping Policy?
---
Due to the fragility of the pieces, the artworks varying sizes, and the value of the work, it is difficult to provide accurate shipping costs at checkout; as a result, we will provide a custom shipping quote after you have placed your order and given us the delivery address. Alternatively, you can pick up your art in Port Salerno, FL in our Studio Location free of charge. Please contact us at info@geoffreysmith.com to ask any questions or to receive a shipping quote.
---
What is Bronze?
---
Bronze is a metal alloy primarily consisting of copper, mixed with about 12% tin and zinc, and sometimes silicone is added.
---
What is patina?
---
Patina is a Greek word meaning color. In the case of a sculpture, the artist applies select chemicals and pigments onto the surface of the bronze, using heat as a catalyst. The bronze will combine to develop a patina coating.
---
What is the Patina Journal?
---
The Patina Journal is Geoffrey's monthly newsletter email. It is full of information about animals, art, and the environment. The Journal is a fun source of information and entertainment! Sign Up By Clicking Here
---
How much does the Patina Journal cost?
---
There is no cost to receive the Patina Journal! Get tons of great information on what is happening in the realm of Geoffrey Smith, art, animals, and the environment. Keep up to date by checking it out, Sign Up By Clicking Here!
---
How to clean an indoor statue?
---
Keep the sculpture clean by dusting it with s soft cotton cloth, soft toothbrush, or the bush attachment from a vacuum. Be very careful not to scratch the metal. You can hand polish (carefully rub the surface with a soft dry cloth) to bring back the luster. Wax as needed. Keep in mind not to wax a sculpture if it has a ceramic coating.
---
Why do sculptures turn green?
---
Copper is a primary ingredient in bronze sculpture. When copper is allowed to come into contact with water and air, over time the oxygen and coper react to form a coating called a patina or verdigris.
---
How to clean an outdoor statue?
---
We recommend cleaning your outdoor bronze or stainless steel sculpture with a mixture of water and dish soap using a soft, wipe with a cotton towel to remove debris. Rinse well making sure not to allow the soap to dry. Avoid washing on very hot days or in very bright sunlight (can cause the soap to dry). Be careful to avoid scratching the sculpture. Wax as needed. Do not use wax over a ceramic coating.
---
---